Le Rouge et le Blanc - Summer 2023 - Terra Vita Vinum favourite vineyard
Extract from the article, by Henri-Noël Lagrandeur: A vocation and an ambition "(...) Every effort is made to produce great wines. The soil is ploughed and sown for three years, one row in two, with a mixture of "organic" seeds to structure the soil, fix nitrogen and return it to the roots. In May, the winegrowers roll down the weeds to create a mulch to protect the soil from evaporation. Luc plants fruit trees in his vineyards and also encourages the presence of colonies of local bats, which feed on the moths responsible for damaging the vines. Dwarf Irish Dexter cows graze in the plots, providing natural fertilizer and weedkiller at the foot of the vines. Lilian Bérillon supplies the plants through massal selection and Marceau Bourdarias advises on pruning. What a team! (...)"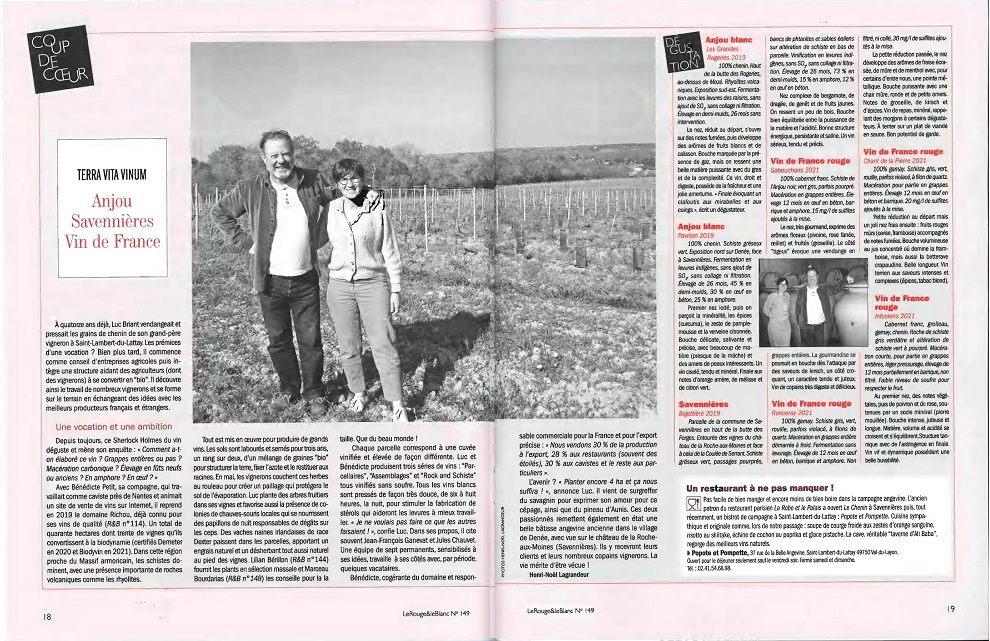 Grandes Rogeries 2019 - Anjou blanc : The nose, reduced at first, opens with smoky notes, then develops aromas of white fruit and calisson. The palate is marked by the presence of gas, but there's a lovely powerful body with fatness and complexity. This wine is straightforward and digestible, with freshness and a lovely bitterness.
Pavillon 2019 - Anjou blanc : Initial iodine on the nose, followed by minerality, spices (turmeric), grapefruit zest and lemon verbena. Delicate, salivating and precise on the palate, with plenty of substance (almost chewy) and interesting skin bitters. Chiseled, taut and mineral. Finishes with notes of bitter orange, lemon balm and lime.
Bigottière 2019 - Savennières : Complex nose of bergamot, dragee, broom and yellow fruit. There's a hint of wood. Well-balanced palate with powerful substance and acidity. Good, energetic structure, persistent and saline. A serious, taut and precise wine.
Gabouchons 2021- Vin de France rouge: The very greedy nose expresses floral (peony, faded rose, carnation) and fruity (redcurrant) aromas. The "tigerish" aspect suggests a whole-cluster harvest. The greediness continues on the palate from the outset, with flavors of kirsch, a crispness and a taut, juicy character.
Ronceray 2021 - Vin de France rouge: After the slight reduction, the nose develops aromas of crushed strawberry, blackberry and menthol with, for some of us, a metallic hint. Powerful on the palate, with ripe, round flesh and small bitters. Notes of redcurrant, kirsch and spices. Mealtime wine, mineral, reminiscent of morgons, to some tasters.
Chant de la pierre 2021 - Vin de France rouge : Slight reduction at first, but a lovely fresh nose afterwards: ripe red fruit (cherry, raspberry) accompanied by smoky notes. Voluminous palate with concentrated juice dominated by raspberry and toadstool beet. Good length. An earthy wine with intense, complex flavors (spices, light tobacco).
Infusions 2021 - Vin de France rouge: On the nose, vegetal notes, followed by bell pepper and rose, supported by a mineral base (wet stone)? Intense, juicy and long on the palate. Matter, volume and acidity intersect and balance. Tannic structure with astringency on the finish. A lively, dynamic wine with good drinkability.